Mars

Mars is about half the size of our planet, Earth. It's thin atmosphere is slowly being blown away by the sun's solar wind. However, its atmosphere forms clouds, and sometimes supports planet-wide dust storms.
The red planet has many features that are visible to the backyard observer with a powerful enough telescope. First of all, Mars has a reddish color due to the iron oxide - commonly known as rust - that is in the soil.
The first feature that most can see on Mars are the polar ice caps. These huge caps of water and carbon dioxide ice expand and shrink due to seasonal changes on Mars.
Second, "canals" and "seas" cover the entire planet. The canals may have been waterways many millions or billions of years ago, but they are now dry, as are the seas. The seas were probably oceans that covered parts of Mars.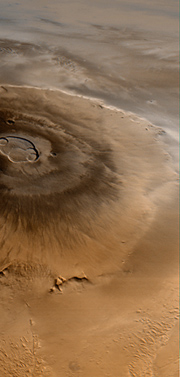 Third, the largest volcano in our solar system, Olympus Mons, lies on Mars. It is 24 km (15 miles) high, and the top of it is 70 km (40 miles) wide; the base is about 600 km (375 miles) wide. This volcano is now dormant, but was active millions of years ago.
Mars is also home to one of the longest (more than 4,000 km (2500 miles long)) canyon systems in the solar system called Valles Marineris ("Mariner Valley"). The canyon system ranges from 5 to 8 km (3-5 miles) deep. If placed on Earth, this would stretch from New York to Los Angeles.

You can find the current weather of Mars, as well as its position relative to Earth at the Mars Today home page, sponsored by NASA.
Mars is the most Earth-like planet in the solar system (except for in size and therefore surface gravity; Venus takes the cake for that characteristic). Because of this, several scientists believe that, if done correctly, Mars can be terra formed into a planet inhabitable by humans.
Mars has some unique characteristics. First off, Mars has the largest volcano in the solar system, Olympus Mons. It also has the largest canyon system in the solar system called Valles Marineris. Third, Mars is the only other planet besides Earth to posses frozen water at its poles, which scientists have seen grow and shrink as the Mars seasons change. Fourth, Mars is the only other planet (that we know of) that has the capability of supporting life, past or present (see "Life" on Mars).
Mars obtained its name due to its deep, war-like red color. The Romans named the planet after their god of war, Mars. Olympus Mons, the largest volcano in the solar system is named after Mount Olympus, the home of the Greek / Roman gods and goddesses. Mars' two moons, Phobos and Deimos, are named after Fear and Panic, the two lackeys of Mars.
Mean Orbital Distance (106 km)

57.91

108.2

149.60

227.92

778.57

1433.53

2872.46

4495.06

Average Orbital Velocity (km/s)

47.87

35

29.78

24.13

13.07

9.69

6.81

5.43

Orbital Inclination (from Earth's Orbit)

7.00°

3.4°

0.0°

1.850°

1.304°

2.485°

0.772°

1.769°

Orbital Eccentricity

0.2056

0.007

0.0167

0.0935

0.0489

0.0565

0.0457

0.0113

Equatorial Radius (km)

2439.7

6051.8

6378.1

3397

71,492

60,268

25,559

24,764

Polar Radius (km)

2439.7

6051.8

6,356.8

3375

66,854

54,364

24,973

24,341

Axial Tilt (from Earth's geographic North)

0.01°

177.4°

23.45°

25.19°

3.13°

26.73°

97.77°

28.32°

Mass (1024 kg)

0.3302

4.87

5.9736

0.64185

1898.6

568.46

86.832

102.43

Density (water=1)

5.427

5.243

5.515

3.933

1.326

0.687

1.27

1.638

Escape Velocity (km/s)

4.3

10.36

11.19

5.03

59.5

35.5

21.3

23.5

Gravity (m/s2)

3.70

8.802

9.78

3.716

23.1

9

8.7

11

Sidereal Rotation Period (hours)

1407.6

-5832.5

23.9345

24.6229

9.9250

10.656

-17.24

16.11

Length of Day (hours)

4222.6

2802

24

24.6597

9.9259

10.656

17.24

16.11

Tropical Orbital Period (days)

87.968

224.7

365.256

686.980

4330.595

10,746.94

30,588.740

59,799.9

Average Surface Temperature (Celsius)
167°
464°
15°
-65°
-110°
-140°
-195°
-200°
Number of Moons
Rings?
No
No
No
No
Yes
Yes
Yes
Yes
Discoverer
Unknown
Unknown
Unknown
Unknown
Unknown
Unknown
William Herschel
Johann Gottfried Galle
Discovery Date
Prehistory
Prehistory
Prehistory
Prehistory
Prehistory
Prehistory
March 13, 1781
September 23, 1846