Mars' Moons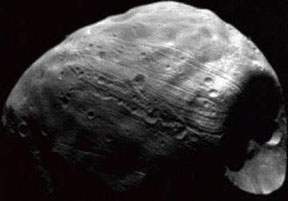 When most people think of a moon, they think of the relatively large whitish globe that they see at night, and sometimes during the day. While this is a moon, it is not typical of moons in the solar system. In fact, Earth has the largest moon in the solar system, relative to the planet's size, if you don't include Pluto. Most other moons are much smaller.
Mars' moons are no exception. With Phobos (left) measuring 13.4x9.2 km (8.3x5.7 miles) and Deimos (right) at 7.5x5.2 km (4.7x3.2 miles), they are runts compared to Mars' size. Spacecraft sent to Mars have photographed the moons. Phobos has craters of all sized on it; it also has long grooves radiating from its largest crater. Deimos has a few small craters. Its surface is covered by a fine dust, but it also has boulders on it - some as large as a house.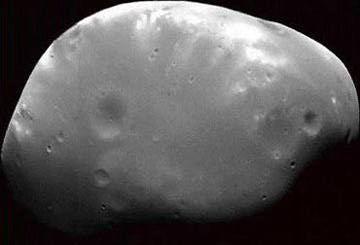 Unlike the planet itself, Mars' moons have not been known since antiquity. Rather, they were discovered in 1877 by a keen-eyed U.S. astronomer in Washington, D.C. In a hazy August evening, Professor of Mathematics in the U.S. Navy Corps of Mathematics, Asaph Hall, was studying Mars with the 26 inch "Great Equatorial" telescope at the U.S. Naval Observatory with his assistant, George Anderson.
Prof. Hall was sweeping the telescope around the edge of Mars when he saw what looked like a star - except that he had seen it five nights earlier along with the planet. He noted that it appeared to be moving with Mars as opposed to staying fixed relative the the stellar background. Later that night, he saw a brighter "star" that was even closer to the planet's disk.
On August 18, several astronomers came to the telescope with Hall and observed the "stars," recording their positions in the telescope's log book. Mars' two moons, Deimos and Phobos, had been discovered.
Mars' moons are probably not native to Mars. Most likely, they are asteroids that were captured by Mars' gravity, and could not escape. Besides their small size hinting at this, the fact that their orbits have high eccentricity - they deviate from a perfect circle - than most moons suggests that they did not originate around the planet.
| | | | | | | |
| --- | --- | --- | --- | --- | --- | --- |
| | | | | | | |
| Phobos | 1877 | A. Hall | 9.378 | 0.000 105 | 11.2 | 0.319 |
| Deimos | 1877 | A. Hall | 23.495 | 0.000 000 005 | 6.1 | 1.262 |